It's time to address any doubts and serve some facts. When it comes to myths about CBD, be careful on where you get your information and who you listen to. We all have that know-it-all friend, but unless they specialize in this stuff, take their point of view with a grain of salt. Let's settle the score and address five of the most common myths about CBD.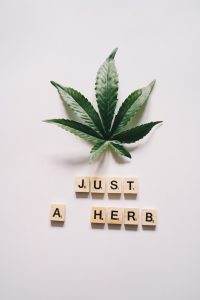 Photo by Alesia Kozik from Pexels
5 Myths About CBD
1. CBD Gets You High

This is probably the one you hear the most. Let's be clear: CBD is not a psychoactive ingredient! By definition, it cannot get you high. There is tetrahydrocannabinol (THC) for that. Contrary to pop culture and general ignorance, CBD is not intoxicating or mind-altering. In fact, the World Health Organization says that "CBD is generally well-tolerated with a good safety report."
2. CBD Has To Be Smoked

The days of simply puffing or eating CBD are over! From topical creams to vapes and tinctures to oral capsules, there's a whole bunch of ways you can take CBD.
A few ways to take CBD include:
Oils and tinctures – you can take these under your tongue. However, you can also combine them with a beverage or incorporate them into a recipe.
Flower and oil concretes – these are inhaled through different tools and carrier methods.
Topical application – this method is all about applying CBD to your skin.
As you can see, there's an endless amount of ways to incorporate CBD – it just depends on your preferences and needs!
3. CBD Doesn't Work
This one is tricky – let's be clear. CBD is not FDA approved as a cure or solution for any physical or mental health conditions. However, it's a total myth to say CBD doesn't do anything. More often than not, people aren't having a true experience with CBD because they use low-quality products. Additionally, many do not take the right dosage or do not take it routinely. CBD has a cumulative effect on our body. It requires daily and consistent dosages in order to have a true impact. Whether you're talking about medical grade antibiotics or homeopathic alternatives, you always have to consider quality, shelf-life, storage, dosage size, dosage schedule, dosage type, and other elements. It's not fair to say something is ineffective without first asking these sorts of questions.
4. All CBD Is The Same

Yes, it may be a naturally occurring substance, but not all CBD products get created equally. The Food and Drug Administration (FDA) still does not regulate CBD, so the range in quality of products is really all over the map. You want to look for organic brands that tell you about their production methods, where they source their hemp from (hint: look for US grown hemp), as well as purity results from independent third-party labs.
5. CBD Follows A One-Size-Fits-All Approach

Like with most things in life, how CBD impacts the body varies from person to person. The ideal dosage will vary as well. There's no standard dose or universal recommendation. This may be one of the most frustrating myths about CBD out there! Your unique physiology will shape how your body and mind respond to CBD. Then you have to add in layers such as the dosage you took and the delivery method. And then you must factor lifestyle choices on top of that. All of this to say… you're going to have to do a little experimenting in order to get your CBD usage just right.
In Conclusion…
There's plenty of myths about CBD out there as you can see. Always have a curious approach when someone tells you their own experience with CBD because it is unique for everybody. Furthermore, same rules apply with whatever information you come across online!
Legal Disclaimer:
The statements made regarding these products have not been evaluated by the Food and Drug Administration. The efficacy of these products has not been confirmed by FDA-approved research. These products are not intended to diagnose, treat, cure or prevent any disease. All information presented here is not meant as a substitute for or alternative to information from health care practitioners. Please consult your health care professional about potential interactions or other possible complications before using any product. The Federal Food, Drug and Cosmetic Act requires this notice.