Cannabidiol (CBD) is everywhere these days. Thanks to scientists, advocates and experts in the field, cannabis' popularity has greatly evolved for the better. We once thought of the plant as something to cause a cloud of smoke and bloodshot eyes. Whereas now we recognize its natural therapeutic benefits. We also respect the plant as something valuable to continue to research and understand more deeply. But what about our furry, four-legged friends? Let's talk CBD pet safety.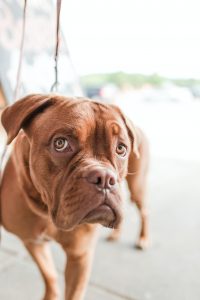 Photo by Gratisography from Pexels
CBD in particular has gained a more valuable reputation over the last decade. Advancements in science and technology have given us more informed research that feels impossible to deny. CBD seems to be a miracle plant with an amazing range of possible physical and mental health benefits.
The World Health Organization (WHO) has endorsed CBD to some degree. At this time, WHO sates "CBD is generally well tolerated with a good safety profile." Yet, many are starting to look towards their furry and four-legged friends as candidates for therapeutically using cannabidiol as well.
Any Research on CBD Pet Safety?
Man's best friend is more like us than you might think. Dogs and cats have an endocannabinoid system (ECS) just like we do! As with human beings, their ECS is quite important for homeostasis across a variety of physiological processes. Examples include immunity, inflammation, emotional wellbeing, bone density, pain, metabolism, stress and more.
Now the question is, can CBD interact with our pets' endocannabinoid system in a safe and effective way? No need to beat around the bush. Limited research has been done regarding how CBD interacts with human beings, and even less when it comes to our pets.
Meet veterinarian Stephanie McGrath, assistant professor of neurology at Colorado State University College of Veterinary Medicine and Biomedical Sciences. She is amongst the top researchers providing preliminary research around administering CBD to pets. McGrath and her team published a study in 2019 that showed CBD looked to help reduce seizure episodes in dogs with epilepsy.
The year prior, a study published by Frontiers in Veterinary Science shared their findings in seeing how CBD affected dogs with osteoarthritis. The results? Promising. The majority of the dogs in the study were found to have higher levels of activity and comfort after taking CBD orally for four weeks. We may be in the beginning stages of research, but results like these are encouraging. It will help encourage others to get on board rather than ignore or dismiss the possibility of CBD being beneficial for our pets all together.
Use Caution and Proceed Mindfully
We can't stress it enough. Our depth of knowledge when it comes to how CBD impacts humans is quite small. With our animals and CBD pet safety, it's even more narrow. As with giving your dog or cat any medication or supplement, you need to know there is always a risk of there being a reaction. If you are going to try CBD out with your pets, we advise first consult your veterinarian.
Once that is clear, start with very small amounts (smaller than you think!). Furthermore, closely monitor your pets for several hours after. Definitely don't leave them alone the first few times and be mindful of their size – stick to that small initial dose for weeks, or even months, before increasing the dosage.
You also will want to apply the same level of consideration when shopping for products. Low quality products saturate the CBD market. We have to imagine that's even more common with products marketed for pets unfortunately. So do your research, as not all CBD oils are the same.
We always want what's best for our four-legged friends! CBD might very well be a potential solution for easing their social anxiety. Or even helping them age gracefully! If you decide to experiment with your pets, just apply the same level of care and concern as you would if it were yourself.
Legal Disclaimer:
The statements made regarding these products have not been evaluated by the Food and Drug Administration. The efficacy of these products has not been confirmed by FDA-approved research. These products are not intended to diagnose, treat, cure or prevent any disease. All information presented here is not meant as a substitute for or alternative to information from health care practitioners. Please consult your health care professional about potential interactions or other possible complications before using any product. The Federal Food, Drug and Cosmetic Act requires this notice.